About us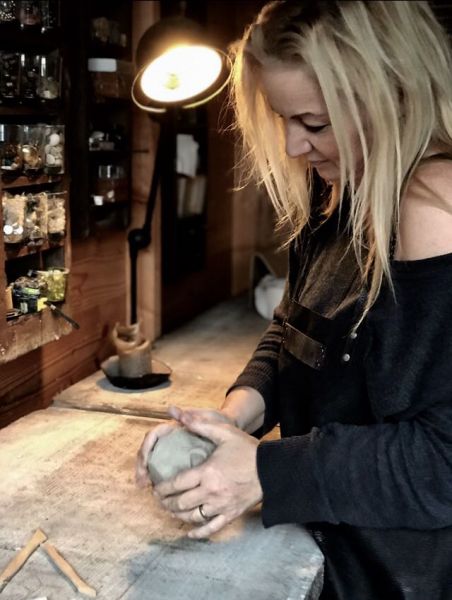 Three years ago Maravillas Ceramics was started by Esther Been, a dutch artist, married and mother of three sons, born in 1971 in the Netherlands. After completing my an art study on the Academy Charles Montagne in Amsterdam, she did a lot of free lance illustration work, wallpaintings and styling assignments.
From 2005 until 2007 Esther and het family lived and worked in Spain. They named their special place of residence in the Spanish countryside "El pais de las Maravillas" because of the spectaculaire view on the mountains. Different and surprising every day because of the always changing light.
"Maravillas" is the Spanish word for miracles. And that is exactly what Esther tries to accomplish with her handmade tableware. Creating small miracles and always trying to supprise by new designs. At 2011 she started to run her own wedding location and trendy restaurant in "Het Heerenhuis" in Middenbeemster, North Holland. In addition to gaining experience in all the different parts of the business she was alway busy trying to surprise her guest with a special presentation by creating a creative interior and unique table styling. During these years she had a hard time finding the tableware she wanted to add that special twist to the lovely dishes that were served and in this way making the experience special and unique. After five years of hospitality and learning all about the different facets of running the business of a luxury location she decided to change course. Doing what she loves most by using her creativity and passion to create.
After selling her business she started designing her own tableware, especially for the hospitality branche. Together with many chefs she can develop a custom made plate or bowl that satisfies the customer in every way. Because of the growing business Esther is no longer working alone and tries to compile a team to help with the production of the different designs.

Are

you interested in the many possibilities Maravillas has to offer?
Please contact us.
Let us know what you are looking for and they will create it, even if you can't find anything like it on the website.
Esther likes to work with you to realise the perfect design entirely according to your wishes.
Every piece made by Maravillas is handmade, shaped and glazed. This makes it unique. That is also why shape, color and effect of every glaze can be slightly different. Sometimes there can be some difference in price between equal models with different glazes. Maravillas can make you a non-committal quotation when you send your wishes by e-mail to info@maravillas.nl.